Find Local Crawl Space Repair Experts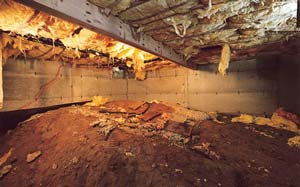 Welcome! On our site, you will be able to find out information about anything you have ever wanted to know about that space below your home known as a crawl space, the problems it can experience, and the most effective ways to go about treating the situation. Here, you can find out why your home smells musty, why there are un-even or
sagging areas
on the first floor of your home, or even why you have been experiencing skyrocketing energy bills each month. We will detail different methods and products used to take care of
moisture
,
humidity
, and
mold
problems, and if after you have read through everything you feel as if it is time for a professional to step in and take care of the work, we are here to help you track down a local contractor doing work in your neighborhood.
Our crawl space repair contractors are certified, insured, and have years of hands-on experience taking care of moisture, mold, and humidity problems in countless homes over the country. They will be able to provide you with a FREE consultation and estimate so that you can get a better idea as to how much the project will cost, and what exactly will be involved in the repair process. We will be able to provide you with a profile of each member we work with. We have local crawl space repair contractors all over the United States.


Take a couple of minutes to browse through our information regarding some more common
crawl space problems
and some easy ways they can be taken care of. You can try these repair techniques on a DIY basis, but if the problem doesn't go away, it will be a good idea to fill out our online contact form to find a contractor in your town who can help you with the problem.